How to Build a Strong Brand on Social Media in 2017 (with Tools & Actionable Tactics)
Since 2010, the number of social media users has more than doubled, increasing activity on social media platforms and reducing the average organic reach of social media posts. Building a strong brand on social media isn't as straightforward as it used to be five years ago – but it has become even more important.
About one-third of the world's population is now active on social media, making social channels high-potential targets for marketers to reach and engage important audiences. But you can't follow old approaches in today's scenario, because –
New social networks are commanding audience attention (Snapchat has grown by

300% in 3 years

), and your target

demographics

may now be frequenting them

New content formats have become popular, and your target demographics may now be extensively consuming them (Twitter video consumption has increased by

200X since 2015

)




3. New solutions have now entered the social media marketing space and can help you navigate today's noisy and competitive social media landscape
You can stay on top of these changes and launch a powerful social marketing effort in 2017 by familiarizing yourself with the top trends, and the solutions available to make the most of them. This is a list of the top 10 social media marketing trends for 2017, with tips to help stay on top of them.

1. Get Comfortable with Data
For marketers, data is all. It tells you where your traffic is coming from and how you can expand it. In the last few years, there have been huge advancements in data tracking for marketing in general, and specifically for social media. Analysts now have access to streams of data indicating important metrics. 2017 will only bring more additions and developments to existing solutions.
Of late, marketers have been associating the word "noise" with social media. To avoid being misled by noise and create a smart social media marketing strategy, you can use one of many social media analytics tools and monitor important metrics like reach, engagement, traffic (referrals), and conversions. You can use analytics tools like SumAll, SimplyMeasured, or Quintly to measure the likes, shares, and click-throughs on your social media posts during specific intervals of time. This can help you measure the effectiveness of your social media content and refine it for better engagement. You can also use Audiense or your Facebook, Twitter, or LinkedIn dashboards to access audience interests so you can create more relevant content.
2. Be Present Real-Time
In the last few years, brands have begun marketing in real time. 72% of customers who interact with brands on social pages expect a response within the hour, and real-time engagement is the best way to leave an impression on them.
Any good social media keywords monitoring tool like Brand24, Mention, or BrandWatch can help you find plenty of opportunities to impact your target audience in real-time. When you set up keywords on monitoring tools, make sure to take account of the multiple roles that social media now plays – as a customer care, PR, and customer engagement platform. You can manage customer care by setting up your brand name as a keyword alert and responding to every query quickly and politely. For PR you need spotlight opportunities. One cool way of doing this is by fulfilling your fans' wishes from time to time.
You can set up "Your brand name" + "wish" as keywords to monitor and do something incredible for your fans once every while like Morton did for Peter Shankman.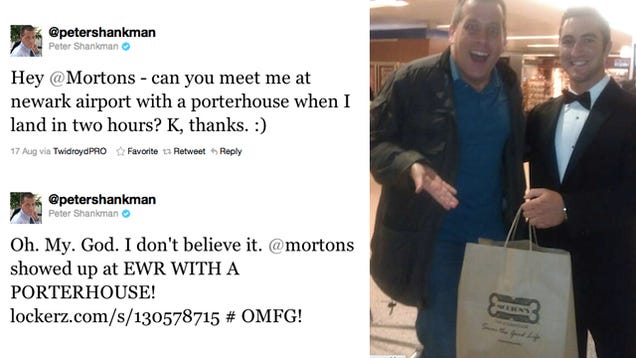 3. Embrace Live-Streaming
According to this study conducted by Zanthus and Focus Vision, 41% of TV viewers and moving to social and digital media. It isn't just entertaining video content. Twitter and BuzzFeed's 2016 US presidential elections broadcast on social attracted 6.8 million viewers. Live streaming is likely to go mainstream in 2017, and you should have a strategy in place to make the most of it.
There is plenty of viewership for you to capture and relay your brand messages. You just have to be entertaining and compelling all at once. Grazia UK's behind-the-scenes video series, Tastemade's tiny kitchen cooking demonstration, and BuzzFeed's epic live dance battle are excellent examples.
There are plenty of live-streaming platforms that you can choose from – Facebook Live, Blab and Twitter's Periscope being the top few. 
4. Co-Create Content
Content that isn't overtly promotional will trend in 2017. Ad aversion is growing, as more people than ever are installing ad blockers. Further, regular people (friends, family, and other social media connections) have been found to be among the most trusted sources on the internet. Content about your brand is far more effective and influential coming from employees or fans, instead of your brand. There has never been a better time for co-creating and promoting content with your fans, customers, and employees.
You can run contests to collect user-generated content, run employee advocacy programs to crowdsource content from your employees, and involve your peers and influencers in the process as well. You can run co-marketing campaigns with non-competing companies targeting the same audience as you.
You can run social contests with an app like ShortStack to collect user-generated content or use apps like Prezi or Trello to encourage teammates to create and share content through their social media accounts. Additionally, you can source employee content through an employee advocacy platform like DrumUp.
5. Target Niche Communities
Organic reach and engagement are both dropping on social media, because of increased activity. Popular networks are now overcrowded and consistently adding new users. To beat the resulting noise and reach their target audience, social media marketers are now tapping niche communities.
Facebook and LinkedIn groups and Twitter chats have become more significant because they attract very specific audiences with high-interest levels in the topics that they discuss.
Influencers have also gained more prominence, having spent years building targeted followings, making them invaluable as marketing resources. Through them, you can access and influence your target audiences. 66% of marketers included influencers as part of their marketing strategies in 2016.
When distributing your content on social media, ensure that you –
 Target active social communities (you need to nurture them by sharing neutral, useful information for a few weeks before you begin sharing brand-related content)




2. Involve influencers (you need to build relationships by sharing their content and interacting with them before expecting them to share your content or work with you in any manner)
Alternatively, you can also use influencer marketing tools to simplify the process.
6. Boost Your Content
Organic social reach may have declined, but you can use advertisement to boost your content reach on social networks. Depending on your budget and target audience, you can decide what to invest in.
Facebook has the largest number of social users and also tons of data that you can use to fine-target your audience, but if your focus is on the professional space, you may want to use LinkedIn ads instead. If subtlety is an important part of your ad campaign, Twitter's in-stream posts or promoted trends may be a good fit. If you have compelling visual content, Instagram is a great choice because it also has a great track record for conversions. The better your ad quality is the more likely it is to get approved and then shared.
If your industry lets you create a lot of video content, Youtube may be the right choice for you. Remember that Youtube is also the second largest search platform, so add the right keywords in your YouTube video description sections to boost search organically and otherwise. You can use TrueView (Youtube's advertising platform) or Google's Adwords to get keyword ideas.  
7. Leverage Expiring Content
Snapchat's disruption of the social media space with expiring content has led other social networks like Whatsapp and Facebook to follow suit. You can expect more features that play with expiring content to come up in the near future. Expiring content helps marketers overcome the human nature of procrastination and improve conversion rates. It also creates scarcity, an important and compelling marketing element that lets you use fear of shortage to increase sales.
You can look at successful Snapchat campaigns like Sphero's, Mondelez's, or Taco Bell's for inspiration on how to use expiring content. Snapchat also works with brands to custom-create filters, as it did with Taco Bell. Another interesting example of expiring content is Rogue Nation's celebration of the release of a Mission Impossible Movie with a 24-hour mission month with exciting prizes. The possibilities are only limited by your imagination.
8. Focus on Top Networks
Each year brings with it new social media platforms and opportunities for brands. However, it may not be a great idea to jump headfirst into all of them. The more you commit, the more your resources get spread out and the less likely you are to achieve your goals.
Some "new" platforms may not survive in the long run, and you may end up losing uncountable hours of work in setting up your social presence. Remember Orkut? MySpace? Exactly. Twitter's short video platform Vine was the latest shutdown in late 2016.
You can choose two primary platforms based on how much of your target audience is present on it, and how well suited it is for your business. Alternatively, you can use social media management tools like Buffer or Hootsuite to schedule posts to multiple social media accounts at one go. Some tools, like DrumUp, also let you create repeat schedules for posts. You could also use IFTTT to create automated cross-promotion recipes for important social networks. For instance, you can instruct the tool to tweet all your Facebook statuses, eliminating the need to manually share those posts twice.  
9. Excel At Social Care
Companies managing customer care well on social media have a 92% retention rate. There is no ignoring the fact that your customers will talk about you on social media, whether you like it or not. The best you can do is use those instances and opportunities to provide excellent customer care and make fans out of existing customers.
All you have to do is catch mentions promptly and respond to them courteously. The social media monitoring tools mentioned earlier in this post can help you catch mentions in real-time. Some of them (like BrandWatch and Brand24) even offer sentiment analysis to help you sort and manage them better. Essentially, these tools analyze your tweets and categories them into positive, negative, and neutral, so you can prioritize them and attend to them accordingly.
10. Optimize For Social Search
With increasing activity on social media, search optimization becomes increasingly important as it can help you drive more traffic to your social media pages and in turn to your websites. Social media platforms are also search engines, in their own right. They allow users to search for content and pages through search bars and throw up relevant results. You can optimize your social profiles for search by using the right keywords. As Kristi Hines explains in one of her posts, to show up on search engine page results, your social media page needs to have the keyword in its name. To show up on social media searches, your subcategory needs to include your keyword.
Using social platform-specific search enhancers like hashtags and @mentions can also help you reach a wider audience.
Hashtags categorize conversations and can help you become a part of important conversations. Then increase your visibility and help you reach other people using/searching for the same hashtags. You can also use synonymous hashtags to reach an audience. Hashtag research tools like RiteTag, KeyHole, or Hashtagify.me can help you identify the best hashtags to use on your social media posts.