15 PPC Tools to Improve Your Quality Score
In 2000, Google launched the first-ever search engine advertising platform named Google AdWords (now called Google Ads), transforming search engine marketing entirely. Now, through Google Ads, even people without well-established websites could show up on the SERP page.
Things changed, and everyone created ads. With the increasing numbers, there were ads of poor relevancy and quality as well. To tackle such issues, Google introduced a quality score in 2005.
Since then, a lot has changed for online advertising, but the quality score remains one of the most crucial elements that helps Google determine which ads apply to a specific query. Quality scores are also beneficial for your business, as higher quality scores mean paying less for your ads.
Here's everything you need to know about quality scores and improving them.
What does an ad quality score mean, and why is it important?
Google simply doesn't want to show only the ads with the highest bidding. It wanted advertisements that were relevant and valuable to the viewers. That's why Google derived a measure of quality for ads called quality score. Google measures it on a scale of 1-10, with ten being the highest. You can check your quality scores by looking at your keywords report.
Three major factors affect your quality score –
Expected Click-Through Rate (CTR): Through CTR, Google determines the chances of people who view your ad clicking on it. There can be several reasons for a below-average CTR, such as a poor or generic ad copy or your ad showing for irrelevant keywords.
Ad relevance: Ad relevance measures how much your ad keywords match the search query. If your score stands above the average, it shows that most of your keywords are related to the search query.
Landing page experience: The landing page is your website page onto which the ad redirects the user when they click it. If your landing page seems irrelevant or is of poor quality, the user will leave the page without further action. Google measures the landing page experience through parameters like the bounce rate, loading time, etc.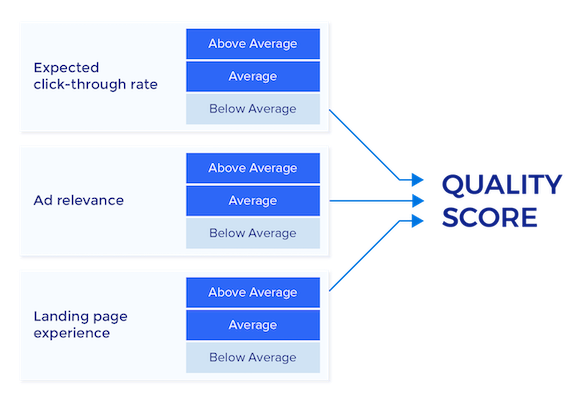 Image Source
How to improve your PPC quality scores?
Now that you know what goes into making your quality scores, you can move on to the measures you need to take to improve your scores. Improving your quality score is about bringing the three factors that affect the quality up to the mark. Here's how you can do that.
1. Enhance your keyword structure
Choosing the right keywords for your ad campaigns increases the read relevancy, which is one of the significant elements of your quality score. Create multiple ad groups and include only closely related keywords for each ad group. By doing so, you can customize your ads for a specific set of keywords easily. The more comprehensive the range of keywords are, the harder it becomes for you to customize your ads, which would bring down your CTR.
Image Source
2. Create compelling ad copies
When users read your ad, they must feel the urge to click on it to know more. For that, you need to create heading and descriptions that pique interest. Merge the keywords naturally to create such copies to remove the monotony from your ad copies.
3. Include relevant ad extensions
Ad extensions feature lets you add more relevant information to your ads. By adding more extensions like the location, services, call buttons, the viewer can directly interact with your business without going through your website. That's why it can enhance your CTR significantly.
Image Source
4. Use negative keywords efficiently
Negative keywords are those keywords for which you don't want your ads to show up. When you use broad match and phrase match keywords in your ad copies, you need to ensure that you add all the queries that are not relevant to your business in the negative keywords list.
Here is a screenshot that shows where you can find 'Search Terms' in Google Ads, in the Keywords section:
Image Source
Doing so will eliminate low CTR queries and increase your ad relevancy and CTR.
5. Focus on improving your landing pages 
Improving your landing page experiences goes a long way in improving your quality scores and getting better conversion rates from your ads. Here's how you can optimize your landing pages.
Ensure that the keywords on the landing page are consistent with your ad.
The landing page you use for the ad copy must apply to it.
Check whether your landing pages and website are mobile-friendly. If not, optimize them for mobile devices.
Look for reasons behind your high bounce rate. Change your landing page to make it more user-friendly and bring the bounce rate down.
Tools to enhance the quality score
Now you are aware of the measures you need to take to improve your quality scores. However, you need the right tools to make it happen. Several tools are dedicated to bringing up your quality score. We have hand-picked the top fifteen tools you can use for your business.
Google Ads
The first tool we want to introduce is a free tool from Google itself called Google Ads. With Google Ads, you can track your quality scores for each keyword. You can also track various other metrics relevant to your PPC ads, such as your bounce rates, expected CTR, churn rate, and much more.
You can pull that data and make comparisons and graphs to know how your campaign performs and what you need to change.
Tenscores
Another exceptional tool that you can use to improve your quality scores is Tenscores. Tenscores stands out because they solely made it for building your quality score and nothing else. Tenscores provides you with data at a granular level, making it easier to manage the campaigns and gain accurate insights.
It also offers actionable recommendations to improve your below-average quality scores.
Adalysis
Adalysis is a PPC tool that automates all your ad testings, making it easier to take multiple tests without hassle. It helps you analyze your data and gives recommendations to improve your quality score. It even enables you to identify any keyword conflicts and check broken links. However, its user interface is complex compared to Tenscores.
DashClicks PPC management tool
Another exceptional PPC management tool that you can use to improve your quality score is DashClicks' white-label platform. What makes DashClicks unique is the in-depth reporting and data insights you get on every primary KPI and metrics. The white-label dashboard gives you a holistic view of all your campaigns.
The platform also helps you identify which ad campaign gives you more ROI to build more similar campaigns.
iSpionage
Keyword research is a significant part of creating your PPC campaigns. Without relevant keywords, you cannot improve your quality score. iSpionage is a tool that you can use to conduct your competitor keyword research. It provides your competitor's SEO data to identify the keywords you need to rank for. It also helps you generate better leads and conversions.
AdWords Performance Grader
Another tool that you can use to improve your quality scores is AdWords Performance Grader, by WordStream. It is a free tool that works similarly to Google ads; however, with the paid version, you get additional features that make it a better tool for beginners in PPC. It makes it easy to manage negative keywords, ad sets, and other complexities.
Google's Mobile-Friendly Test
Another tool from Google you can use to improve your quality score is the Mobile-Friendly Test. With this innovative tool, you can determine how your ads work on a mobile device and optimize them. This tool majorly focuses on your page speed. You can use it for both SEO and PPC.
Unbounce
Having a landing page that urges the viewer to take the next step is crucial for any PPC campaign. To build landing pages that can increase your conversions and leads, you can use Unbounce. It has fully customizable templates for landing pages and a user-friendly interface to create multiple pages in no time.
Ad Variations
Another tool within Google ads you can use to enhance your quality scores is Ad variations. With the help of Ad variations, you can test multiple samples of an ad with different headlines, selling points, and descriptions to determine which ad works best with your audience.
By doing so, you can save your money and ensure that your ads are relevant, and get results in the first go.
GTmetrix
Your website's performance also plays a vital role in metrics like the bounce rate and the user experience of the landing page. And speed optimization is a crucial part of improving the landing page experience. With GTmetrix, you can test the loading speed of your website and get suggestions on how to improve it if the speed is slow. You can also measure how your website loads on different devices with GTmetrix.
Keyword Spy
Keywords are an essential element of your PPC campaigns; without them, you cannot move forward. Keyword Spy is a keyword research tool that can help you find the right keywords for your ad campaigns.
PPC Ad editor
PPC Ad editor is another tool you can use to review the quality of your ads before publishing them. You can also create your ads a lot quicker and get them approved seamlessly with the help of the PPC Ad editor tool. This automation PPC tool reduces a lot of manual work, saving you time and effort.
Ahrefs
Although commonly known for its SEO capabilities, Ahrefs is a highly beneficial PPC management tool. Through Ahrefs, you can perform in-depth competitor analysis to determine the most relevant keywords and understand your target audience's psyche. You can also measure how much organic and paid traffic you are getting on your website.
Google Search
Google search doesn't get much limelight when there are several tools in the market. However, it has its perks. Google search is one of the best tools to understand the market and your competitors. You can also use it to derive keywords for your ad campaigns and review your competitor's ads and landing pages.
CHEQ for PPC
CHEQ is not directly related to the PPC metrics that help improve your quality score. However, it has a crucial role in your ad campaigns. CHEQ for PPC detects frauds and prevents them. You can control any fraudulent or invalid clicks that are spending your ad budget through this platform. It helps increase your ROI and get you accurate data for your campaigns.
Conclusion
Quality scores are more than just a way to get your Google ads on the top. They are about improving the overall performance of your ad campaigns. By enhancing your quality scores, you can publish more ads in less budget, get better leads and conversions and gain more customers, and that's the ultimate goal for any business.