Why Customer Reviews Are Critical For Building Your Brand
E-commerce has groomed an era of empowered customers. Armed with smartphones and abundant bandwidth, consumers have access to product information and its reviews in an instant. The information-equipped customers are now more powerful than ever in building or breaking a brand.
In the early days, before eCommerce took over, customers used to show their support for their favorite brands by walking into their stores more often or by paying a premium amount exorbitantly higher than other market offerings.
Today, digital transformation in the retail industry has given customers the convenience of hyper-personalization. They have the power to dictate when to buy, how to buy and which brand to buy. Customers have taken on the role of creators and critics.
Customer reviews provide an enormous power to voice an opinion about every digital and physical product or service paid for. Social media, local listing websites, business directories, software review websites, price comparison websites, and many other crowd-opinion sourced websites make it easy for customers to make their feedback about a business public.
Businesses can no longer turn a blind eye to customer reviews that are available for all to see on the Internet. Negative feedback needs to be addressed immediately. Positive feedback must be capitalized as marketing collateral. Likewise, customer reviews are essential for your brand building strategy.
Here are some ways of how customer reviews can help build your brand:
They help monitor brand mentions
Fake customer reviews hurt businesses more than negative customer reviews. A proven way to track and remedy fake and troll customer reviews are with brand mention tracking. Of course, brand mentions also help you know of satisfied customers and the aspects of their satisfaction.
Social media hashtags, online reputation management tools and dedicated brand mention tools like Awario, Social Mention, Hootsuite, etc. help track brand mentions on a real-time basis. Tools like Brand Mention even help track brand mentions based on country, language, time, number of web mentions, the performance of each mention and much more.
Help generate UGC for SEO
Customer reviews are rich in UGC (user-generated content). Reviews written first-hand by customers are naturally infused with keywords to help rank the product page of an eCommerce store or the product ranks higher for related search queries. Above all, UGC has the power to turn customer reviews into full-fledged marketing campaigns of their own.
Take, for instance, the 'Share a Coke' marketing campaign that Coca-Cola used to drive social media reach.

Names in Lights: The iconic King's Cross digital sign in Sydney, Australia.
Starbucks is another global brand which struck gold with a brilliant UGC campaign. In 2014, the coffee brand rolled out a White Cup Contest in which users were invited to 'Decorate its Iconic White Cup' with their doodles and submit the entries as pics. Within 3 weeks, Starbucks received more than 4K entries. The contest which turned the iconic white cup into a canvas went viral with the hashtag #WhiteCupContest gaining maximum traction on Instagram, Facebook & Twitter.

In a way, these are also customer reviews in a different form that help cement the brand position in customer minds. They also help portray a positive image of the brand for the long-term.
Word-of-mouth publicity
According to BrightLocal's Local Consumer Review Survey – 2017, "68% of customers are likely to use a local business that has positive customer reviews." Customer reviews are literally considered as good as recommendations from near and dear. Moreover, there is also an increasing trend of customers searching online for product reviews while they are shopping in-store.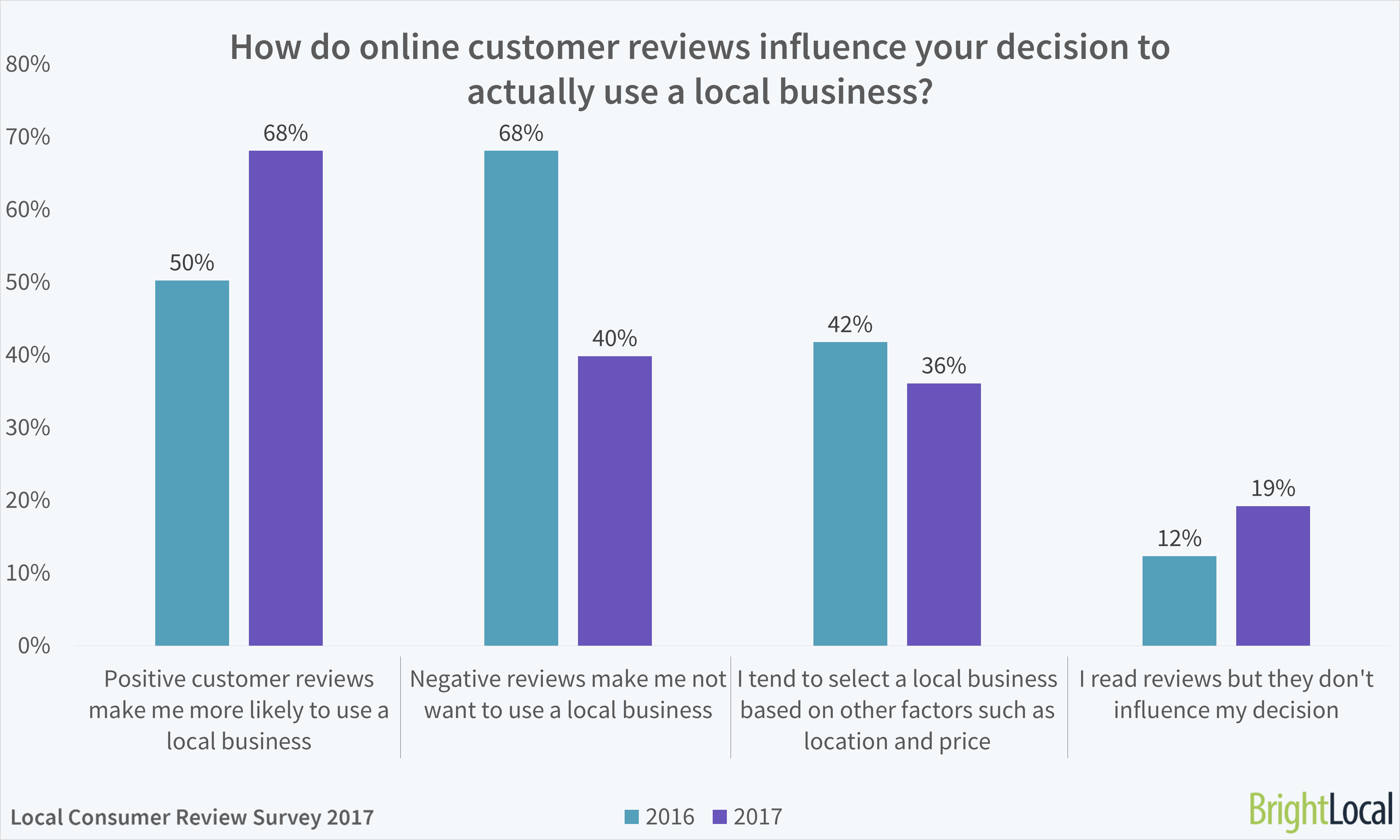 Customer reviews take up the job of word-of-mouth publicity which is considered to be more credible, natural and even 12x more trustworthy than the generic product description given by the manufacturer. It makes your brand popular amidst social circles.
Builds a community of loyal customers
Customer reviews groom a community culture where customers can present their views about a new product they bought or a service they hired. Social media platforms like Facebook, Twitter, LinkedIn, Instagram, etc. happen to be the prime platform where such communities are built and grown. There are also specific review websites where users can create their own pages and submit reviews about products, services, and companies.
Asos – the British online fashion and beauty store is a fine example of community building on social media. Its Instagram account @AsSeenOnMe serves as a platform for anyone, even ordinary people to become brand ambassadors of the brand.
Harvard Business Review calls this building the social capital which means allowing customers to build and grow their own support groups. Such communities experience higher rates of engagement and credibility than brand-moderated communities. Businesses that do not have such social presence miss the opportunity to reach customers socially and understand their pain areas directly. To put it in another way, customer reviews are the seeds that help grow this social capital from the roots.
Summing it up
As more and more products and services are hitting the market on a rapid scale, businesses need to win customer confidence to stay relevant and popular as a choice. They need to build a positive brand image so that more customers can be acquired and the overall Customer Lifetime Value can be increased.
It all begins with customer reviews. Customer reviews enable customers to give their say about a product or service in a transparent manner. Positive customer reviews help position the business as a favorable option when the customer feels an urge to make a buying decision. It also brings a host of other benefits that no business owner can give a cold shoulder too. Building a global brand with a local presence happens to be one of the prominent benefits among them all.
Has your business taken the measures to collect and leverage customer reviews for building a brand?
We hope you enjoyed this promoted piece as much as we did!