Roadmap to Becoming a Successful Business Entrepreneur
Henry Ford. Thomas Edison. Ferruccio Lamborghini.
These are entrepreneurs who are known across the globe for their success.
Now think of these guys: Steve Jobs. Mark Zuckerberg. Jeff Bezos. Larry Page. Sergey Brin.
These guys are our 21st-century entrepreneurs.
What is difference between the two sets? Well, the first generation of entrepreneurs thrived in the era of the Industrial Revolution. They made great use of the rapid growth of industrialization and machinery to advance their business.
Whereas, the second set of guys capitalized on technology, specifically the Internet. Apple, Facebook, Amazon, Google — all of these businesses would have never become what they are today if it wasn't for the online world.
The point worth noting is that in today's world, becoming a successful online business entrepreneur is possible. It is not a mammoth task anymore, given the easy availability of the Internet with its great bandwidth, business platforms, ease of business registration and global access to resources.
The only extra ingredients that calls from the individual is: a vision for the digital future, perseverance, technical expertise and of course, business acumen.
All this might make you feel overwhelmed and excessively burdened. Fear not, for here is a straightforward roadmap that will help you go from being an idealist to a successful online business entrepreneur.
Identify a problem
Entrepreneurs at large, problem solvers. They enter the market with a solution for a pressing problem that no one else has thought of providing until then. They also know how to turn their solution into a money making venture that can be scaled globally.
So, the starting point to your online business venture is about identifying a problem or customer pain area that can be solved.
Think of a solution
According to Richard Branson, Founder of Virgin Group, "Launching a business is essentially an adventure in problem-solving."
To become a successful online business entrepreneur, you have to think of a solution that can satiate customers from three angles:
It solves the problem permanently
It is affordable
It is quick and easy compared to existing options
Since you are aiming for an online business, it is necessary to leverage technology. The solution must be largely grounded on technology and must be easily adaptable by end users.
Digitalize the solution
The solution you perceive can be either a website or a mobile app, or both. Each model has its strategic benefits. Take for instance, Airbnb. It entered the market as a rental booking website that had property listings from major cities across the world. They launched the mobile app only later when booking volumes picked up rampantly.
Similarly, instead of launching a website first, WhatsApp first launched off of a mobile app. This proved to be the best move for the company which was later acquired by Facebook. Later, when user demand increased, they launched a web version which further amplified their app downloads.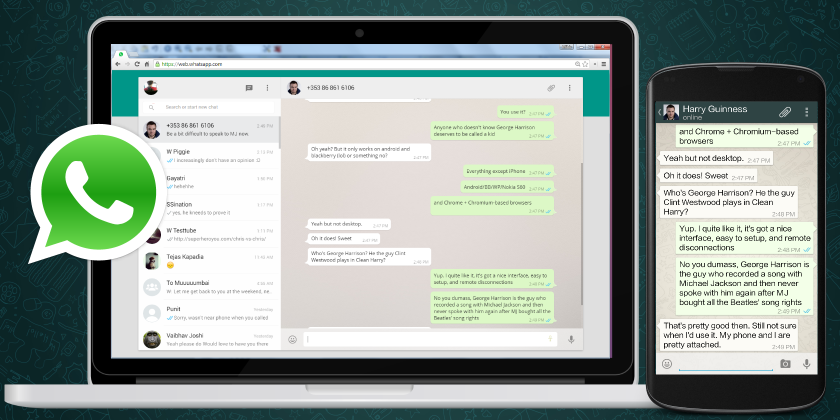 In short, the choice to go with a website or mobile app model is a decisive factor in the long-term success of your online venture. It requires you to know your target customer market in detail.
Know Your market
Even if your online business has a novel idea, remember that customers have always found a way to deal with it in the past using some other model. The key to winning the market is to hit consumers' pain areas directly with tailor-made solutions.
What are the wants, desires, hopes, questions, and expectations that customers have for a product that is similar to yours?
To solve for this, you need to know your market. Market research, market study, customer behavior study, there are several names to it. You can follow any methodology, but in the end, you must know your customers and their preferences like the back of your hand.
An ideal way to do that is shown below:

Sizing up your market
Suppose, every single member of your target customer group is to make a buy from you, how big would your market be? This number is referred to as the Total Addressable Market (TAM), a hypothetical number which aids in taking early-stage business decisions in the right direction.
Here are some parameters to determine a precise Total Addressable Market (TAM):
How many people will visit your website?
How many will download your app?
How many will buy from your online store?
How many will subscribe to your video blog?
This number can be further drilled down into region, country, customer age, gender, or other demographic factors.
Craft a revenue model
Don't get blinded by the term revenue model. It simply asks the question, "how you will make money by selling your product or service?" The revenue model will detail the various forms through which your product will reach the end-user and how they will pay for it.
As an online business model, your revenue model will primarily revolve around serving digital content or physical products sold across a website. There are also other digital revenue models like subscription plans, pay-per-view, on demand selling, etc.  The possibilities are endless but that is a good thing because it means that if your revenue model does not work, you can always change it.
Below are some popular revenue models by BlogGeek.me:
Master business finance
Online or offline, your business cannot run smoothly without finance. It is the bloodline which will nourish your operations and help it fulfill orders on a timely basis. For an online entrepreneur, financial expertise is equally as important as technical expertise.
How much money will you need to meet a single day's operating expense?
How much marketing budget will your business need in the next 2 years?
How much space will your office need to accommodate a growing team?
Should you buy IT equipment or rent until you break even?
Can your business meet the stakeholder requirements of turnover and profitability?
These are some of the toughest business finance related questions that every online entrepreneur must answer. Unless you pick up the ropes of business finance, the road ahead is not going to be a smooth one.
Become the world's best salesman
Unlike the rest of the world, the Internet entrepreneur has at his/her disposal, several niche tools that are cost-effective and result-yielding.
The tenet for making an online business popular is definitely through online marketing. Here are the three vitals of online marketing that you can deploy to make your brand world-famous.
1) Content marketing
Uses custom curated content to educate, entertain and engage customers. Builds a steady online presence and creates a connect with a targeted customer audience.
2) Influencer marketing
Influencer marketing is a form of brand building where an expert/celebrity/popular individual helps drive the brand's message and product information to the target customer audience. Influencer marketing has grown in popularity across all social channels including YouTube, Facebook, Twitter, LinkedIn, etc.
Influencer marketing helps:
+ Boost sales
+ Create a humane brand image
+ Increases real traffic and product enquiries
+ Amplifies RoI at fractional costs
3) Vlogging
According to Smallbiztrends, Facebook videos have 2x views and 7x engagement than any other news feed. Video grabs the attention of the audience easily and quickly than any other medium.
Vloggers, or video loggers are people who create and publish a custom video about products or brands that they associate with. Needless to say, it is an expensive way of building a rock-solid image for your brand.
Brace yourself against hackers
Business up and running. Cash counter ticking in. Audience growing. Boom! A hacker walks in and walks out with all your data leaving you biting the dust.
Sounds like a nightmare right? Every online business model is prone to cyber security attacks. Whether small or big, cybersecurity is a matter of high priority for all businesses. That is why we suggest you secure your website with an SSL certificate. The SSL certificate encrypts the exchange of information between your web browser and the server. It also makes customers feel safe about transacting with your business.
Moreover, search engines like Google and CMS platforms like WordPress, have already set a mandate for website owners to move to a HTTPS only ecosystem. Either today or someday in the future you will definitely have to adapt to it.
Bringing it all together
"Being an entrepreneur is super hard work, and if you're not passionate about what you are doing, you're probably not going to succeed." ~ Jeff Raikes.
Being an online business entrepreneur is difficult beyond your imagination. Ups and downs will be haphazard that you will lose track of what is happening around you.
But for those who stay grounded on reality and keep moving things ahead in the right direction, the journey from being an idea to being a global brand won't take long.
The pointers described above will help do just that. Consider them the tenets of becoming a successful Internet entrepreneur. Who knows, you might even join the league of Jobs, Bergs and Bezos.